Lucifer – The devil of his words

Started: 25th January 2016
Finished: 10th September 2021
8.1 / 10 – IMDb
88% Rotten Tomatoes
Cast: Tom Ellis, Lauren German, Kevin Alejandro, Lesley-Ann Brandt, D.B. Woodside, Aimee Garcia, Rachael Harris, Tricia Helfer, Inbar Lavi, Tom Welling
—
It is just recently that I started watching Lucifer, rather casually or even on a whim. Little did I knew; I will grow attached and addicted to this show. First impressions are not always the last impression. At first, the show looked dull. A man named Lucifer, who considers himself the devil, is boasting about his abilities, wealth and dress. It was only after a few minutes that the show starts to get interesting.
The genesis of the fallen angel is told in the tale of Lucifer. Because he was bored and unsatisfied in his role as the Lord of Hell, Lucifer Morningstar abdicated his throne and moved to the City of Angels, Los Angeles, where he now runs the upscale piano bar, Lux. Lucifer is enjoying his retirement and indulging in a few of his favorite 'Earth'' things– wine, women, song — when a beautiful pop star is brutally murdered outside of Lux. He senses a deep awakening for the first time in nearly ten billion years. Is he genuinely capable of experiencing sentiments for a human being? He is unsure whether it is his suppressed urge to punish the evil. He is troubled by the very concept, as is Mazikeen (also known as Maze), a ferocious demon, in the form of a stunning young lady, who is also his closest friend and confidante. Chloe Decker, an LAPD homicide detective, notices the murder and finds Lucifer.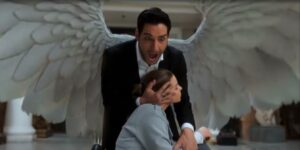 As the story continues, a character Linda gets introduced as Lucifer's councillor who later explains to him that, it was a gift that God actually sent lucifer to hell, as he needed to carry out the most difficult of jobs. Lucifer denies it and exclaims how he felt throughout the eons, living at a place of dead mortals to punish themselves. Most human, after committing a crime, often claims that "The devil made me do it", but in reality, the devil doesn't make anyone to do anything. It is a person's own fault and failings that he or she ends up in hell. Either the person ends up in Heaven or Hell, it's up to the person itself.  "I never made anyone do anything", as said by Lucifer himself.
Eventually Lucifer and the detective become partners, and starts to solve several homicide crimes. This is when Lucifer's innate ability to compel people by simply asking them, "What is it that you desire?", and make them say, their deepest, darkest desires, came into action. It is also seen that the Detective is the only human who is neither influenced by Lucifer's charms, nor does his infamous ability to know what a person desires the most, works on her. Lucifer is impressed by Chloe's natural decency as they collaborate to uncover several murders. He starts to question whether there is still hope for his redemption as he is used to dealing with the darkest aspects of humanity. Meanwhile, his brother, Amenadiel, God's representative, has also been sent to Los Angeles to persuade Lucifer to go back to Hell. However, lucifer is having too much joy right now to go back, though, with the City of Angels at his feet and a renewed purpose. The story goes on, telling the tale of how Lucifer, the Devil, redeems himself, and falls in love with Chloe, the detective through all the ups and downs.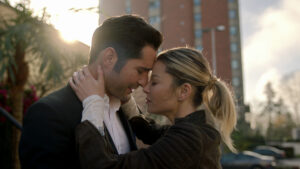 Dark and irreverent, sometimes comedic too, this one-hour per episode drama from Jerry Bruckheimer Television, based on the characters created by Neil Gaiman, Sam Kieth and Mike Dringenberg for DC Entertainment's Vertigo imprint, offers up the concept that everyone might have a chance at redemption … even the Devil. The heady blend of imagination and reality it offers will keep you captivated and involved from start to finish. It's humorous, superbly performed, with Tom Ellis and Lauren German leaping off the screen. Throughout the series we see some epic acting sequences from Tom and Lauren. The play is also elevated by the talented supporting cast, which includes Lesley-Ann Brandt, Rachael Harris, Aimee Garcia, Kevin Alejandro, and D.B. Woodside.  Lucifer covers a lot of genres – crime because there's a new murder in each episode, fantasy because you have to believe he's the Devil, comedy because of its clever and sharp one-liners, drama because of the relationships between the various characters and romance because of the will-they-won't-they that plays out between Lucifer and Decker over the seasons.
~ Subham Mukherjee
Jr. Software Developer
Brainium Infotech